NEW DESTINATIONS FOR STUDY ABROAD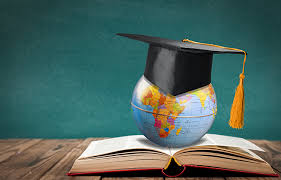 The uncertainty in the world economy post Covid has made many students explore alternative destinations to the traditional ones of Australia, Canada, UK & USA for pursuing higher education.
A lot of the alternate destinations are able to lure Indian students for undergraduate and postgraduate degrees by offering academic excellence at substantially lower costs specially in Europe. Simplified visa process and at par academic courses are of high interest to students the world over and several now have the vantage of a diverse classroom as well. This coupled with the history, culture and natural beauty of the Country to explore presents an extremely delightful proposition for Indian students to consider experiencing.
Indian students consider aspects such as post study work opportunities, reputation of a university or a country, quality of education, infrastructure, gaining valuable life lessons and skills, in-country experience, exploring new destinations, and the opportunities to live independently as key determinants to study overseas.
Let us explore some of the quaint destinations and the world recognized Universities there:
🌐 Germany – It is a popular destination for engineering students. All public universities have low or no tuition fees and are very affordable for students on a budget. They do have to learn German though which is the medium of instruction. Universities like TUM (Technische Universität München) and LUM(Ludwig-Maximilians-Universität München) offer education in English.
🌐 Japan – is eager to establish its Universities as world class campus and is luring Indian students by making the medium of instruction as English in its international campuses. University of Tokyo and Kyoto University are among the globally recognized Universities in Japan.
🌐Nordic Countries – like Sweden, Finland and Norway are also getting popular and sought after as technologically advanced Countries and academia related to technology. The natural beauty of these Countries is also a big draw. Uppsala University & Stockholm University from Sweden, University of Oslo in Norway and University of Turku in Finland are world recognized.
🌐 Spain – with its culture, food, friendly people and inexpensive education make it a sought after destination for all students.  University of Barcelona is well known, and students aim to pursue design, architecture and business studies.
🌐Italy – Italy is not far behind and is the most preferred emerging choice due to its  history and cuisine and easy-go life. Indian students look to this Country to pursue fashion, food tech and art courses.  University di Bologna and university di Pisa are the popular choices well known over the globe.
🌐Switzerland – attracts Indian students due to its natural scenery and also lot of locations have formed the backdrop for Bollywood films. Students flock here for pursuing the best hotel management courses. University of Geneva, University of Lausaunne and University of Zurich are the globally recognized ones.
🌐Israel – is sought after its cosmopolitan lifestyle and cultural experience. Indian students largely pursue learning Hebrew followed by arts. The University of Haifa and the Weizmann Institute of Science are some of the well know educational institutions in the world.
🌐Mauritius –offers Indian students a rich blend of African, European and Indian culture. With its beautiful scenery, free healthcare and free public transportation it is a student's paradise. University of Mauritius is world recognized.
🌐Slovenia – is a popular student destination as its international courses are all in English. With its beautiful landscapes that are becoming a popular tourist destination, the Country offers a low cost of living and huge savings in tuition for international students. Universities are best known for the research expertise they provide and The University of Ljubljana is ranked amongst the top 3% of the world universities.
🌐Singapore – is a favourite when it comes to pursuing management studies by Indian students. The Government pays 75% of the tuition fees of the international students, in return the students have to work for 3 years in the country. The University of Singapore is world renowned.
🌐Dubai – Institutions in Dubai are affiliated with top international universities in Australia and The UK at half the cost. It is a global tourism and entertainment hub and offers many post-graduation work opportunities to students. Aerospace engineering, tourism and hospitality courses are popular with Indian students.
🌐Argentina – Still nascent as a crowd puller, the Country is being given preference due to free tuition, with a nominal enrollment fee that is offered in its Universities. The chance to experience a very different culture and hemisphere certainly makes it a great attraction. The University of Belgrano is a globally recognized one.
🎯Shortlist your University based on the program you want to pursue and the cultural experience you want to imbibe as a student.
In case you get stuck or have any doubts, or if you want to know more about any of these countries, colleges here and admissions, feel free to reach out to us. Or…drop a comment!
🌈Here to help.
#sonniasingh #sonniasinghleadershipcoach #studyabroad #abroadstudy #indianstudents #highereducationabroad #overseasstudy #studyoverseas #educationabroad #colleges #universities #studyingabroad #studyabroadcounsellor #career #education